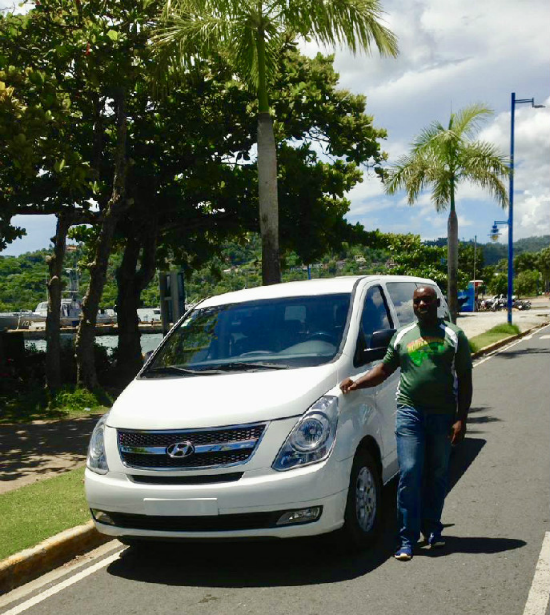 Tour Samana With Terry offers airport transfers between all Dominican Republic airports and the Samana Peninsula and all it's hotels. We even do transfers to private homes just about anywhere in the country. Our courteous staff will handle the crazy roads and conditions and deliver you safely to your destination safe and sound.
We offer competitive prices for your transportation needs to and from Samana. While you can beat our prices by a little bit and take a taxi from the airport, it's so much more comforting to know that someone is waiting just for you and that you won't have to haggle over the price after a long day of airline travel. We have no hidden fees and you pay ahead before you arrive. Trust Tour Samana With Terry's stellar reputation. We don't win the Trip Advisor Certificate of Excellence every year for nothing!
Our mini-buses are air conditioned and comfortable with room for up to 14 people. If you have a bigger group we even have buses for up to 54 people.
"Our recent visit to Cayo Levantado was all the more enjoyable with the dependable and very economical overland transportation provided by Terry's team. His price easily beat out the package tour operators and the services of Elijah, our driver, were top notch."
Taken from posted review on Trip Advisor website.
Group Fares – Transfers for 1-5 persons – All prices US:
(Transfers for larger groups available: fill out a booking form to request pricing)
BOOK AIRPORT TRANSFER:
Prices listed are not per person: Each Way:
Samana (AZS) – Samana-Cayacoa: $90
Samana – Cayo Levantado: $95
Samana- GBP Samana Don Pablo $95
Samana – Las Terrenas – El Portillo (new toll road): $95
Samana – Las Galeras – Grand Paradise: $100
Samana – Dominican Tree House Village (4×4): $100
Samana – Rio San Juan, Cabrera, Playa Grande: $120
5 or more people in your group: Add $10 per extra person
Travel time: Approx 1/2 – 1 hour
Santo Domingo (SDQ) – Samana-Cayacoa : $195
Santo Domingo – Cayo Levantado: $200
Santo Domingo- GBP Samana Don Pablo $200
Santo Domingo – Las Terrenas-El Portillo (new toll road): $200
Santo Domingo – Las Galeras-Grand Paradise: $210
Santo Domingo – Dominican Tree House Village (4×4): $210
From Santo Domingo Hotel in the City Add $25
5 or more people in your group: Add $20 per extra person
Travel time: Approx 2-3 hours
Puerto Plata (POP) – Samana-Cayacoa : $190
Puerto Plata – Cayo Levantado: $190
Puerto Plata- GBP Samana Don Pablo $190
Puerto Plata – Las Terrenas-El Portillo (new toll road): $205
Puerto Plata – Las Galeras-Grand Paradis: $205
Puerto Plata – Dominican Tree House Village (4×4): $205
From or To Puerto Plata Hotel Add $25
5 or more people in your group: Add $20 per extra person
Travel time: Approx 3-4 hours
Santiago (STI) – Samana-Cayacoa: $185
Santiago – Cayo Levantado: $195
Santiago- GBP Samana Don Pablo $195
Santiago – Las Terrenas-El Portillo (new toll road): $200
Santiago – Las Galeras-Grand Paradis: $205
Santiago – Dominican Tree House Village (4×4): $205
From or to Santiago Hotel in the City Add $25
5 or more people in your group: Add $20 per extra person
Travel time: Approx 3-4 hours
Punta Cana (PUJ) – Samana Peninsula Accommodations: $330
5 or more people in your group: Add $30 per extra person
Travel time: Approx 4+ hours
La Romana (LRM) – Samana Peninsula Accommodations: $275
5 or more people in your group: Add $30 per extra person
Travel time: Approx 3+ hours